Resilient, Authentic, Innovative, Aware, Conscious Leaders
The Resilient Leader as a Digital Sage
The post-pandemic world is different. The way we work has changed. Hybrid working inclusive of physical and virtual work is the new norm. The old order of command and control has given way to team based working practice and all that this entails. As such, we are required to be flexible, make adjustments and embrace new practices.
There has been a new management shift away from tasks and objectives to a focus on collaboration, psychological safety, experimentation, creativity, connection, and awareness of emotions in team-based work. There is a movement towards creating more conscious leadership with a focus on creativity and innovation.
Finding ways and means to become a resilient and conscious leader in a world of constant change is imperative, because in this world, leader's and organisations need to continually adapt and adjust due to the blistering pace of change.
How then do we survive?   By developing a range of personal solutions that can help you be authentic and keep your equilibrium.
Mindset and Conversation
"Delivering innovation through conversation and facilitation"
Change the internal narrative on the experience. Powerful change can occur through conversation as ideas are externalised and new ideas re-formed. Patterns can shift and the narrative begins to change. There is real value in being heard so that you can have real conversation. Deep listening is important.
Decision-making Focus
Making different choices – the change that comes from this is quite profound.  Conscious decision-making is key.   Cleverness and wisdom may be two spectrums.  Move to wisdom!  Keep your eye on the consequences of the decision-making process.  Focus on the choices you make.
Kindness in Leadership
Kindness in leadership is part of conscious resilient leadership and creates a different type of leader who creates a different and more conducive culture.   Kindness embraces a nurturing attitude and shows you care.  Kindness and thoughtfulness build trust and connection.  
Ethical Ambassadors
In an increasingly complex era, all leaders today need to operate as ethical ambassadors. These leaders use their moral-ethical compass as part of their everyday decision-making process. We need the ethical ambassador to guide us through turbulent times.
The Future Leader is a Digital Sage
The Sage leads in the digital era through authenticity, collaboration, self-awareness, self-reflection and continuous learning. The Digital Sage is a creative who is an emotionally intelligence and digital savvy entrepreneur. There are eight facets that make up the digital sage and these all have sub-characteristics (see latest book). Be inspired to become a Digital Sage and learn the wisdom of the Sage. The Digital Sage will be the resilient leader for our time. Make contact to find out more and explore ways to become a Digital Sage.
The Resilient Leader as a Digital Sage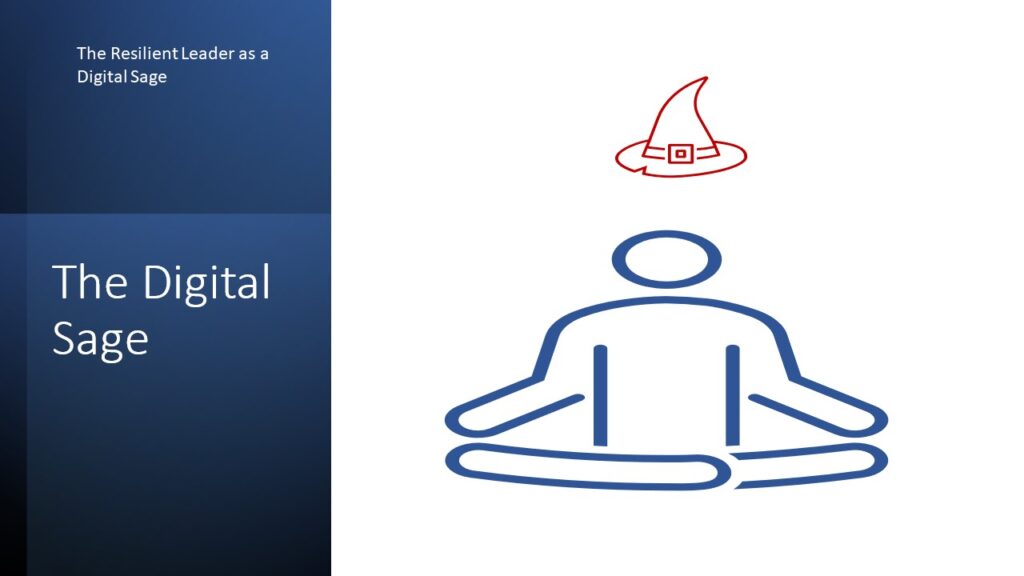 Make contact to find out more.